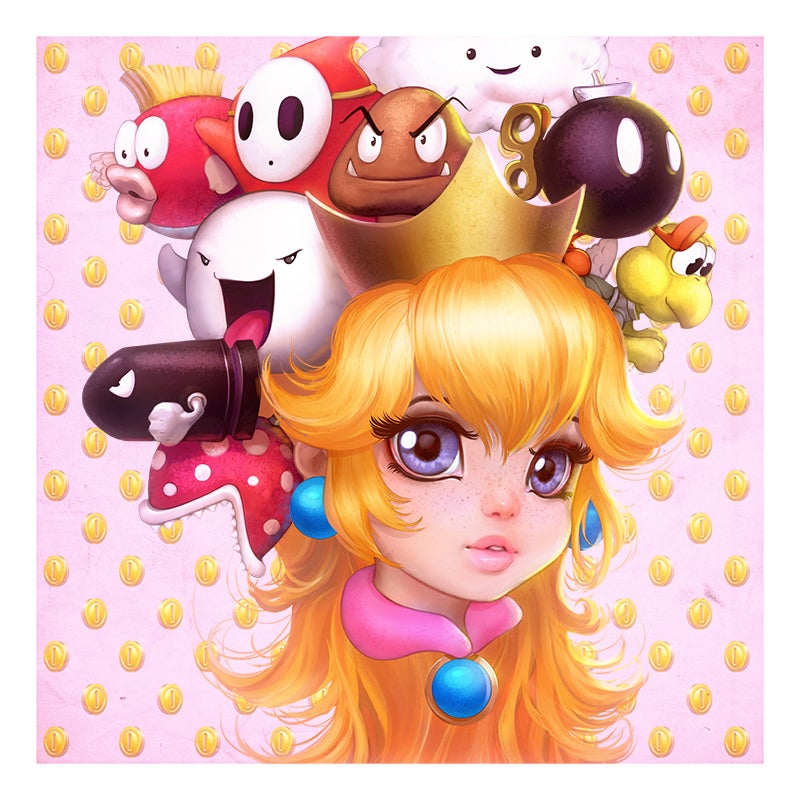 Peach Pie Print
$

105.00

$

30.00
---
Okay, so my nerd secret is out- I love Mario Bros. games and characters. These were some of the first really fantastical video game worlds, with stories and characters, that I fell in love with. Peach Pie is a painting I colored digitally with colorist Amanda Duarte after I created the acrylic painting for my 2015 Beauty in the Breakdown exhibition collection. Peach Pie puts the Pop Culture in Pop Surrealism! And she's ready to pop into your collection as a print, too!
Peach Pie prints start in 12x12" Lasal Paper size from $30. You can choose the size, paper type & whether you'd like it signed or unsigned in the dropdown box. Fun options for ya! So you can decide if you want your new print sent to me for signing first for an extra fee, since I live in Vancouver Canada and it will cost a tad extra to have it come to me first to sign before heading to you, my lovely! My prints are standard sizes, so they're easy to frame, and handmade & hand-cut with love!
-You can customize your paper type and signature option.
-I have TWO paper options:
-Lasal paper is bright white with no texture. Its smooth paper with a medium thickness (230gsm)
-Entrada paper is a beautiful thick fine art paper (300gsm). It's a lightly textured luxurious paper made from cotton. This is a beautiful upgrade from a print to a fine art print!
-Please anticipate 2 weeks for production for unsigned prints
-Signed prints are made in Vancouver, Canada, and take an extra week of production time due to shipping internationally. Thank you for your patience with this signed option, but I promise it'll be worth it to have my personal signature!